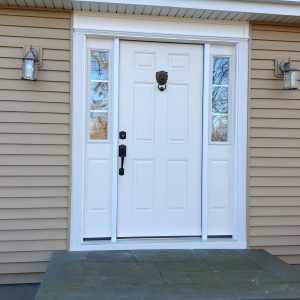 All home improvements provide a variety of different benefits to a home owner. Some provide more perks then others but DLM Remodeling wanted to dive into some of the perks that can arise when replacing your current front door with a high quality one.
Energy Bills: A lot of old current doors have broken seels and leaks. This leads to increased energy bills because heating and cooling has to work harder. Drop down those soaring energy bills with the help of a brand new door.
Curb Appeal: A poorly looking and constructed door can honestly be spotted from a mile away. Choose the perfect style and color to help accent your home.
Security: An old or poorly constructed door can lead to security issues. A newly installed door provides a safety benefit to stop any easy break ins.
Noise: If you live on a busy area of town or just seem to hear alot that goes on outside, an old doorway could be the reason. A new high quality door from a DLM manufacturer is insulated and helps limit any noise from coming inside.
Resale: If you're selling your home, you don't want the front door to be a piece of junk. People looking at your house will be walking straight through this door to explore your home. It can increase your homes value and create a positive first impression.
DLM Remodeling offers a range of high quality doors from leading manufacturing companies such as Andersen Windows & Doors & Harvey Building Products. It's important that our customers not only get the best services but the best products available.
For more information about DLM Remodeling, please feel free to give us a call at 781-789-8827 or fill out our online contact form.