The DLM team was in Medford, MA this past week and we snapped a quick picture for you guys! Before getting to the windows, we touched up all the paint and exterior trim of the house. This brightened up the house and gave it that "newer" look the homeowners were looking for. After that, we installed Harvey classic windows in the house. If you reference the image below, you can see the top window in and the bottom window currently being installed.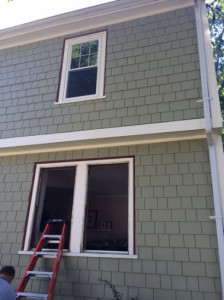 This homeowner is getting a fresh look to their home while also easier windows to work with and increased energy savings. Winter is right around the corner and these homeowners don't have to worry about cold drafts leaking into their home. It's a great feeling when you know that a properly insulated home actually saves you electricity and money.
Contact the experts at DLM Remodeling by giving us a call at 781-789-8827 or fill out a contact form to inquire about a job for you.