Here is one of DLM Remodeling's latest replacement window jobs that we finished up in Westwood MA last week. They were in need of some new windows so DLM thought Andersen windows would be a great fit for the home. Below is the image with the new Andersen woodwright replacement windows, simulated divided lite grids and pre-painted white in a breakfast nook. Such a beautiful look for this home!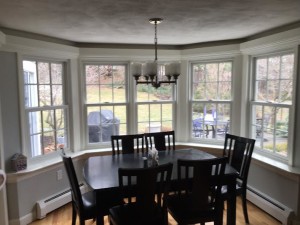 New windows bring such an amazing new look and feel to a home. There are many different reasons for why homeowners should purchase new windows, but the look of these windows almost puts that reason at the top of the list.
For more information about window replacement please feel free to reach out. We can be reached over the phone at 781-789-8827 or through our online contact form.