DLM Remodeling finished up two window replacement jobs this past week and we were able to capture a couple pictures.
The first job completed was in Wakefield, Massachusetts and includes new Harvey Vinyl Classic Windows with new Harvey composite board / sill nose. We also installed a Therma tru fiberglass front entry door. The Therma Tru fiberglass front entry door has 5 times the efficiency of a wood door with no maintenance. Not to mention the beautiful look and finish it provides as well!
The second job we want to share with you, was completed in Brookline, Massachusetts.  We installed a Anderson white "woodwright" 400 series window in a brick building. This is quite a beautiful window. Tightly insulated and finished painting.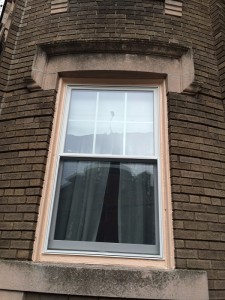 For further information, please feel free to give us a call at 781-789-8827 or fill out an online contact form.